STUDENTS' ATTRIBUTIONS ON ENGLISH READING SKILL IN AVIATION FIELD
Keywords:
Keywords: attributions, aviation field, English reading skill
Abstract
Learning activities have a close relation with progress, achievement or even failure. Attribution is the clarifications and reasons that individuals give for advance, accomplishment, and indeed disappointment towards something they have experienced, especially in their language learning. This study aims to investigate the students' attributions on their English-reading skill especially in reading aviation text. Thus, we know the progress, the achievement and also the failure of the learning activity in students' reading skill. The participants of the study were sixty-nine students who took Bahasa Inggris Teknik II class. Open-ended questionnaire and interview were used as the instruments to collect the data. The results showed that interest was the major attributions for doing well and ability was the major factor for not doing well.   
Downloads
Download data is not yet available.
References
Asonibare, B. (1986). Attribution of failures and success by Nigerian secondary school students. Ilorin Journal of Education, 15-22.
Ellis, R. (2008). The study of second language acquisition (2nd ed). Oxford: Oxford University Press.
Gonzales, A.S. (2011). Attribution theory and culture: using focus groups to uncover parameters of influence. Language studies working papers, 29-37.
Lei, C. (2009). On the causal attribution of academic achievement in college Students. Asian Social Science, 87-96.
Neuman, W.L. (2006). Social research methods qualitative and quantitative approaches (6th ed.). Boston: Pearson.
Pishghadam, R., & Zabihi, R. (2011). Foreign language attributions and achievement in foreign language classes. International Journal of Linguistics, 1-11.
Tse, L. (2000). Student perceptions of foreign language study: a qualitative analysis of foreign language. The Modern Language Journal, 69-84.
Weiner, B. (1972). Attributions theory, achievement motivation, and the educational process. American Educational Research Association, 203-215.
Williams, M., Burden, R. L, Poulet, G.M.A., & Maun, I. C. (2004). Learners' perceptions of their successes and failures in foreign language learning. Language Learning Journal, 19-29.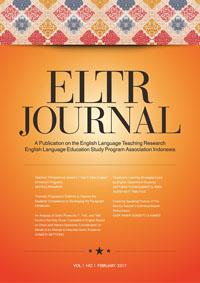 Downloads
How to Cite
Kusumaningrum, M. A. D., & Yulia, M. F. . (2021). STUDENTS' ATTRIBUTIONS ON ENGLISH READING SKILL IN AVIATION FIELD . ELTR Journal, 5(2), 93-104. https://doi.org/10.37147/eltr.v5i2.117
License
Copyright (c) 2021 Maria Asumpta Deny Kusumaningrum, Made Frida Yulia
This work is licensed under a Creative Commons Attribution-ShareAlike 4.0 International License.