GENDER REPRESENTATIONS IN INDONESIAN ENGLISH LANGUAGE TEACHING (ELT) TEXTBOOK TITLED "BAHASA INGGRIS UNTUK SMA/MA/SMK/MAK KELAS X"
Keywords:
gender representation, ELT textbook, content analysis
Abstract
Abstract
Gender inequality issues are issues that are still often found in daily life. Evidently, the issues do not only happen in the action of real-life but previous researches have also discovered that gender inequality does exist in textbooks in the form of how genders are being represented unequally. With this gender representations issue emerging, this research aims to identify and analyze the gender representations in the ELT textbook titled "Bahasa Inggris Untuk SMA/MA/SMK/MAK Kelas X". It is important to know if the genders are being represented equally because the books which exclude one or more gender can affect its readers and or users. To reach the goal stated this research used a qualitative method with a content analysis approach. The analysis of the data which was taken both from the texts as well as from the illustrations shows that there are many characteristics that only represent a specific gender and not the others. From the occupational activities that are only explored often by men, to domestic items that are attached to women. It can be concluded that the BI textbook has not represented genders equally. Some genders are still
excluded in several activities, attributes, and designations.
Downloads
Download data is not yet available.
References
Abendroth, A. (2014). Encyclopedia of Quality of Life and Well-Being Research (2014 ed.) (1403258439 1023099034 A. C. Michalos, Ed.). Dordrecht Springer. Retrieved from https://doi.org/10.1007/978-94-007-0753-5_1129
Ayd?no?lu, N. (2014). Gender in English Language Teaching Coursebooks. Procedia - social and behavioral Sciences, 158, 233-239. doi:10.1016/j.sbspro.2014.12.081
Baswedan, A. (2016). Permendikbud No. 8 Tahun 2016 Tentang Buku Yang Digunakan Oleh Satuan Pendidikan (Indonesia, Kementrian Pendidikan dan Kebudayaan, Jakarta Pusat). Retrieved from https://cdn.sc.cloudapp.web.id/content/undang-undang/Permendikbud%20No.%208%20Tahun%202016%20Tentang%20Buku%20Yang%20Digunakan%20Oleh%20Satuan%20Pendidikan.pdf
Brugeilles, C., & Cromer, S. (2009). Promoting gender equality through textbooks: A methodological guide. Paris: United Nations Educational, Scientific and Cultural Organization.
Coates, J. (2016). Women, men, and language: A sociolinguistic account of gender differences in language (Third ed.). London: Routledge.
Creswell, J. W. (2012). Educational research: Planning, conducting and evaluating quantitative and qualitative research (4th ed.). Harlow, Essex: Pearson.
Demir, Y., & Yavuz, M. (2017). Do ELT coursebooks still suffer from gender inequalities? A case study from Turkey. Journal of Language and Linguistic Studies, 13(1), 103-122.
CSULB. (n.d.). Research methods data collection strategies II: Qualitative research. Retrieved from https://web.csulb.edu/~msaintg/ppa696/696quali.htm
EIGE. (n.d.). EIGE Thesaurus. In Eige.europa.eu. Retrieved from https://eige.europa.eu/thesaurus/terms/1182
Gharbavi, A., & Mousavi, S. A. (2012). A content analysis of textbooks: Investigating gender bias as a Social prominence in Iranian high school English textbooks. English Linguistics Research, 1(1). doi:10.5430/elr.v1n1p42
Hsieh, H., & Shannon, S. E. (2005). Three approaches to qualitative content analysis. Qualitative Health Research, 15(9), 1277-1288. doi:10.1177/1049732305276687
Jolly, S., Griffith, K. A., DeCastro, R., Stewart, A., Ubel, P., & Jagsi, R. (2014). Gender differences in time spent on parenting and domestic responsibilities by high-achieving young physician-researchers. Annals of Internal Medicine, 160(5), 344-353. doi:10.7326/m13-0974
Krippendorff, K. (2004). Content analysis: An introduction to its methodology (2nd ed.). Thousand Oaks, CA etc.: SAGE.
Merriam Webster. (n.d.). In Www.merriam-webster.com. Retrieved from https://www.merriam-webster.com/dictionary
Meyerhoff, M. (2006). Chapter 10. In Introducing Sociolinguistics (pp. 201-237). London and New York: Routledge.
Nitasari, O. (2013). Gender Representation in Indonesian Secondary English Language Textbooks (Master's thesis, Jakarta, 2013). Jakarta: STKIP Kebangkitan Nasional Sampoerna School of Education.
Oxford's Learners Dictionaries. (n.d.). In Www.oxfordlearnersdictionaries.com. Retrieved from https://www.oxfordlearnersdictionaries.com/definition/american_english
Parziale, A. (2008). Gender inequality and discrimination. In R. W. Kolb (Ed.), Encyclopedia of business ethics and society (Vol. 1, pp. 978-981). SAGE Publications, Inc., https://www.doi.org/10.4135/9781412956260.n365
Prastiyowati, S., Andini, T. M., & Prastiwi, W. (2019). The study of gender inequality found in Deborah Elli's novel "The Breadwinner". Jurnal Perempuan dan Anak (JPA), 2, 1-10.
Santosa (2020). Designation of gender on electronic EFL textbook for senior high school. Indonesian EFL Journal, 6(2), 127-138. doi: 10.25134/ieflj.v6i2.3381.
Sathee, S. A. (2018). Gender discourse in English language teaching (ELT) coursebook. A thesis submitted to the department of English and humanities of BRAC University.
Seguino, S., Sumner, A., Der, H. R., Sen, B., & Ahmed, M. (2013). Humanity divided: Confronting inequality in developing countries. New York, NY: UNDP. Retrieved from https://www.undp.org/content/dam/undp/library/Poverty%20Reduction/Inclusive%20development/Humanity%20Divided/HumanityDivided_Ch5_low.pdf
Sitorus, A., D. S. Priyarsono, & Nuryartono, N. (2013). The Impact of Gender Inequality on Economic Growth in Indonesia. Retrieved from https://repository.ipb.ac.id/handle/123456789/65721
Surbakti, S., & Devasahayam, T. (2015). Women and girls in Indonesia: Progress and challenges. UNFPA Indonesia Monograph Series, 5th ser.
UNICEF. (2020). Girls' education. Retrieved from https://www.unicef.org/education/girls-education
UNFPA. (2005). Frequently asked questions about gender equality. Retrieved from https://www.unfpa.org/resources/frequently-asked-questions-about-gender-equality
Widiati, U., Rohmah, Z., & Furaidah. (2017). Bahasa Inggris untuk SMA/MA/SMK/MAK Kelas X. Jakarta: Pusat Kurikulum dan Perbukuan, Balitbang, Kemendikbud. Retrieved from http://buku.kemdikbud.go.id/index.php/buku/detail/f33bc5f2-d9ab-4300-9e93-eeb1eefd03c1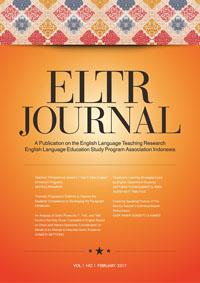 Downloads
How to Cite
Ramadani, R. F., & Novianti, M. (2021). GENDER REPRESENTATIONS IN INDONESIAN ENGLISH LANGUAGE TEACHING (ELT) TEXTBOOK TITLED "BAHASA INGGRIS UNTUK SMA/MA/SMK/MAK KELAS X". ELTR Journal, 5(2), 120-129. https://doi.org/10.37147/eltr.v5i2.121
License
Copyright (c) 2021 Rizqoh Fadila Ramadani, Maria Niayu Risma Novianti
This work is licensed under a Creative Commons Attribution-ShareAlike 4.0 International License.