DESIGNING AN AUDIO E-WORKSHEET TO TEACH LISTENING-SPEAKING FOR 7TH GRADERS
Keywords:
autonomous learners, educational technology, e-learning, listening skill, teaching media
Abstract
Listening is crucial to master as it reveals the ability to comprehend and produce effective communication. In fact, listening becomes an unfavorable skill and is considered less important that it does not appear in most school textbooks. This study aimed at the development of an English audio e-workbook as a languagelearning media to improve students' listening skill in the classroom. This study is a mixed method study thatinvolved 25 students of 7th grade at junior high school in Ngawi, East Java, Indonesia. The result showed that the designed audio e- workbook showed a significant improvement on the student's listening skill andconsidered properly to use and support students' listening skill based on the feedback availability and experts. The data was collected through interviews, questionnaires, and tests to determine the targets and needs of students. Most of the students achieved upgrading scores from the pre-test to their post-test. The pre-test resulted that students who passed the minimum grade, score averages is below 50.00, were below 50% while the post-test showed an upgrade of almost 75% of students having an increase in grades.
Downloads
Download data is not yet available.
References
Arsyad, A. (2006). Media pembelajaran [Instructional media]. Jakarta: PT. Raja Grafindo Persada.
Astuti, L., Wihardi, Y., & Rochintaniawati, D. (2020). The development of web-based learning using interactive media for science learning on levers in human body topic. Journal of Science Learning, 3(2), 89–98.
Brown, H. D. (2001). Teaching by principle: An interactive approach to language pedagogy, (2nd Ed.). New York: Longman.
Brown, H. D., & Abeywickrama, P. (2018). Language assesment: Principles and classroom practices (Third Edit. Inc. www.pearsonELT.com.)
Cahyadi, R. A. (2019). Pengembangan bahan ajar berbasis Halaqa. Islamic Education Journal, 3, 36.
Cipta, S. (2010). Learning and the factor that influence. Jakarta: PT. Rineka.
Febrianela, R. (2013). Self regulated learning (SRL) dengan prestasi akademik siswa akselerasi. Jurnal Online Psikologi,01(1).
Hamouda, A. (2012). Listening comprehension problems: Voices from the classroom. Language in India, 12(8), 1-49.
Hamouda, A. (2013). An investigation of listening comprehension problems encountered by Saudi students in the EL listening classroom. International Journal of Academic Research in Progressive Education and Development, 2(2), 113-15.
Hasyuni, P. I. (2006). The students preperred activities for English listening classess (A Survey Conducted to The Second and Fourth Semester Students of English Department of FKIP). Bengkulu: FKIP Universitas Bengkulu.
Huda, M. (2013). Teaching and learning models. Yogyakarta: Student Library.
Huriah, T. (2018). Metode student center learning aplikasi. Jakarta: Prenada Media.
Jeremy, H. (2007b). The practice of English language teaching. Essex: Pearson Education Limited.
Johnson, & Rising. (2003). Learning model in mathematic reality. Bandung.
Karim, R. A. (2017). The effectiveness of web-based instruction and students? attitude toward learning basic English grammar. June 2011.
Language, E., Study, E., Education, A., & Training, T. (2017). Designing web-based reading activities to promote English language education study program students' positive reading attitude (undergraduate Thesis).
Liddicoat, A. J., Papademetre, L., Scarino, A., & Kohler, M. (2003). Intercultural language learning. Australia: Commonwealth department of education, science.
Mayer, R., & Moreno, R. (2002). Review methods used to evaluate the free radia. Animation as an aid multimedia.
Osada, N. (2004). Listening comprehension research: A brief review of the last thirty years. Japan: TALK.
Richards, J. C., & Renandya, W. A. (2002). Methodology in language teaching an anthology of current practice. Cambridge: Cambridge University Press.
Richards, J. C., & Rodgers, T. S. (2014). Approaches and methods in language teaching (3rd edition). ELT Journal, 71(1).
Rost, M. (2002). Teaching and researching listening. London: Longman.
Sari, H. V. (2017). Pengembangan media pembelajaran berbasis web untuk mengukur hasil belajar siswa pada mata pelajaran komputer jaringan dasar program keahlian teknik komputer dan jaringan. Jurnal Pendidikan: Teori, Penelitian, Dan Pengembangan, 2(7), 1008–1016. .
Smaldino, S. E., Lowther, D. L., & Russel, J. D. (2014). Instructional teachnology and media for learning (Tenth Edit). Pearson Education, Inc.
Tee,T., Siew, T., Fah, F., & So, S. (2005). Use of songs in the teaching of lifeskills modules. Paper presented at ITE Teaching Conference [Online].
Tomlinson, B. (1998). Materials development in language teaching. Cambridge: Cambridge University Press.
Tomlinson, C. A. (2001). How to differentiate instruction in mixed-ability classrooms. Upper Saddle River, NJ: Pearson Education.
Vandergrift, L. (1999). Facilitating second language listening comprehension: Acquiring successful strategies. ELT Journal, 53 (3), 168-176.
Wallace, Trudy, & al, e. (2004). Teaching speaking, listening, and writing. Retrieved from http://www.ibe.unesco.org/fileadmin/user_upload/archive/publications/Education a lPracticesSeriesPdf/PRATICE_14.pdf [2012, December 1].
Welty, G. (2007). The 'Design' phase of the ADDIE model. Journal of GXP Compliance, 12 (4), 40-48.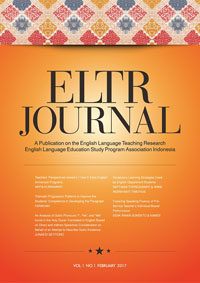 Downloads
How to Cite
Tsiqah, A., & Arini, R. . (2022). DESIGNING AN AUDIO E-WORKSHEET TO TEACH LISTENING-SPEAKING FOR 7TH GRADERS. ELTR Journal, 6(2), 113-127. https://doi.org/10.37147/eltr.v6i2.154
License
Copyright (c) 2022 Aina Tsiqah, Restu Arini
This work is licensed under a Creative Commons Attribution-ShareAlike 4.0 International License.