CODE-MIXING IN IKA NATASSA'S METROPOP NOVEL ANTOLOGI RASA
Keywords:
code-mixing, metropop novel, Antologi Rasa
Abstract
This study analyses the use of code-mixing as a communication strategy used in Ika Natassa's metropop novel Antologi Rasa. Antologi Rasa is a best-selling metropop novel that depicts Indonesian urban lifestyle; it portrays the have and educated adults living in Jakarta. This paper seeks out the answer to the following questions: (1) What types of code-mixing are employed? and (2) What is the communicative function of code-mixing? The researcher collects the data from Chapter 1 of Antologi Rasa. The researcher only lists the dialogues found in Chapter 1 that contain code-mixing. After listing all data that contain code-mixing, the researcher categorizes each of the code-mixing based on the types of code-mixing based on Kachru's theory (1982) and the communicative function of code-mixing according to Hoffmann's theory (1991). The result of the research shows that in the first chapter of Antologi Rasa, there are 68 sentences that contain five types of code-mixing, namely Unit Insertion (50%), Unit Hybridization (1.47%), Sentence Insertion (29.41%), Idiom and Collocation Insertion (17.64%), and Reduplication (1.47%).  The researcher also finds out the reasons of code-mixing found in Ika Natassa's Antologi Rasa, namely talking about a particular topic (95.5%) and being emphatic about something (4.4%).
Downloads
Download data is not yet available.
References
Hoffmann, C. (1991). An introduction to bilingualism. Harlow: Longman Group UK Limited.
Kachru, B. B. (1982). The bilingual's linguistic repertoire. Issues in International Bilingual Education, 25 – 52.
Natassa, I. (2011). Antologi rasa. Jakarta: Gramedia Pustaka Utama.
Spolsky, B. (2004). Sociolinguistics. Oxford: Oxford University Press.
Wardaugh, R. (2010). An introduction to sociolinguistics (6th ed). Oxford: Blackwell Publisher.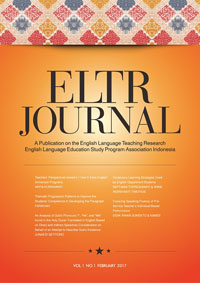 Downloads
How to Cite
Winarni, R. (2018). CODE-MIXING IN IKA NATASSA'S METROPOP NOVEL ANTOLOGI RASA. ELTR Journal, 2(1), 31-45. https://doi.org/10.37147/eltr.v2i1.94
License
Copyright (c) 2018 Retno Winarni
This work is licensed under a Creative Commons Attribution-ShareAlike 4.0 International License.