PROBLEM-BASED LEARNING AS A METHOD TO IMPROVE SENIOR HIGH SCHOOL STUDENT'S READING COMPREHENSION IN ENGLISH
Keywords:
classroom action research, problem-based learning method, reading comprehension
Abstract
In the current curriculum in Indonesia where it aimed to be more student-centered, the implementation of Problem-Based Learning is heavily reinforced. This is because how Problem-Based Learning is not just about being student-centered, but also because it encourages students to be problem solvers and learn through their understanding. This paper aims to see how Problem-Based Learning can affect the students' reading comprehension in class. Classroom Action Research is chosen in this study. The participants were 30 students of the Senior High School English classes in Ambulu. Based on the findings, the Problem-Based Learning method could potentially become an effective method for students as there is a significant change between the first cycle and the second cycle of the use Problem- Based Learning method in the class. The improvement shown is that almost all of the students had their scores improved in the reading comprehension test after the implementation of Problem-Based Learning.
Downloads
Download data is not yet available.
References
Ahmed, A. K. (2013). Teacher-centered versus learner-centered teaching style. Journal of Global Business Management, 9(1), 22-45.
Aksela, M., & Haatainen, O. (2019). Project-based learning (PBL) in practise: Active teachers' views of its' advantages and challenges. Paper presented at 5th International STEM in Education Conference Proceedings: Integrated Education for the Real WorldAt: Queensland University of Technology, Brisbane, Australia.
Alfath, A., Azizah, F. N., & Setiabudi, D. I. (2022). Pengembangan kompetensi guru dalam menyongsong kurikulum merdeka belajar. Jurnal Riset Sosial Humaniora dan Pendidikan, 1(2), 42-50.
Ali, S. S. (2019). Problem based learning: A student-centered approach. English language teaching, 12(5), 73-78.
Amir, S., Mehboob, U., Sethi, A., & Jamil, B. (2022). Problem-based learning: An overview of its process and impact on learning. Pakistan Journal of Physiology, 18(1), 68-69. Retrieved from http://pjp.pps.org.pk/index.php/PJP/article/view/1381.
Aqib, Z. (2006). Penelitian tindakan kelas. Bandung: Yrama Widya.
Aspini, N. N. A. (2020). Implementasi pembelajaran PBL berbantuan media kartu soal untuk meningkatkan kemampuan HOTS pada siswa kelas VI SD. Jurnal Edutech Undiksha, 8(1), 72-79. https://doi.org/10.23887/jeu.v8i1.27087
Dole, S., Bloom, L., & Kowalske, K. (2016). Transforming pedagogy: Changing perspectives from teacher-centered to learner-centered. Interdisciplinary Journal of Problem-Based Learning, 10(1), 1. https://doi.org/10.7771/1541-5015.1538
Farha, N. A., & Rohani, R. (2019). Improving students' reading comprehension of report text with KWL strategy. ELT Forum: Journal of English Language Teaching, 8(1), 25-36. https://doi.org/10.15294/elt.v8i1.30244.
Gangga, U. W. A. (2015). Eksperimentasi model problem based learning (PBL) dan model group investigation (GI) dalam pembelajaran matematika materi bangun ruang sisi datar ditinjau dari sikap percaya diri siswa kelas VIII SMP se-Kabupaten Madiun tahun pelajaran 2013/2014 (Doctoral dissertation, UNS). Sebelas Maret University, Surakarta, Indonesia.
Harton, E. (2019). Gallery walk. the teacher tool kit. Retrieved on 2 June 2023 from http://www.theteachertoolkit.com/index.php/tool/gallery-walk
Kaganang, G. (2019). The use of problem-based learning to improve students' reading comprehension at the first grade students of Senior High School 1 of Middle Halmahera. Langua: Journal of Linguistics, Literature, and Language Education, 2(1), 45-53. https://doi.org/10.5281/zenodo.2588119
Kemmis, S., & McTaggart, R. (1988). The action research planner (3rd ed.). Geelong: Deakin University.
Lambe, L. (2017). Teaching reading comprehension in EFL classroom: A glance at some approaches and activities. Journal of English Language and Literature Teaching, 2(2), 263-285. https://doi.org/10.36412/jellt.v2i02.9.
Lopez, M.K.R.R., & Cruz, R.A.O. (2022). Gallery walk technique in enhancing reading comprehension and oral English language proficiency of junior high school students. Waikato Journal of Education, 27(3), 57–71. https://doi.org/10.15663/wje.v27i3.813
Lukitasari, M., Purnamasari, I., Utami, S., & Sukri, A. (2019). Blended-problem- based learning: How its impact on students' critical thinking skills? JPBI (Jurnal Pendidikan Biologi Indonesia), 5(3), 425-434. https://doi.org/10.22219/jpbi.v5i3.10048
Mogea, T. (2019). The effectiveness of question and answer technique in teaching reading comprehension at SMP Negeri 3 Ratahan. Journal of Educational Method and Technology, 2(2), 9-18. https://doi.org/10.36412/jemtec.v2i2.1007
Nurjanah, R. L. (2018). The analysis on students' difficulties in doing reading comprehension final test. Metathesis: journal of English language, literature, and teaching, 2(2), 253-264. https://doi.org/10.31002/metathesis.v2i2.958.
Pourhosein, G. A., & Sabouri, N. B. (2016). How can students improve their reading comprehension skill? Journal of Studies in Education, 6(2), 229-240. https://doi.org/10.5296/jse.v6i2.9201
Rizki, R. A., & Fahkrunisa, L. (2022). Evaluation of implementation of independent curriculum (kurikulum merdeka). Journal of Curriculum and Pedagogic Studies (JCPS), 1(1), 32-4.
Rochiati, W. (2006). Metode penelitian tindakan kelas: Untuk meningkatkan kinerja guru dan dosen. Bandung: PT. Remaja Rosdakarya,
Rosidah, C. T., Pramulia, P., & Susiloningsih, W. (2021). Analisis kesiapan guru mengimplementasikan asesmen. Jurnal Pendidikan Dasar, 12(1), 87–103.
Savery, J. R. (2015). Overview of problem-based learning: Definitions and distinctions. Essential readings in problem-based learning: Exploring and extending the legacy of Howard S. Barrows, 9(2), 5-15.
Setyo, A. A., Fathurahman, M., Anwar, Z., & PdI, S. (2020). Strategi pembelajaran problem based learning (Vol. 1). Makassar: Yayasan Barcode.
Sidik, H., & Masek, A. (2021). The effects of problem-based learning in students reading comprehension for mastering the content and vocabulary acquisition. ASEAN Journal of Science and Engineering Education, 1(2), 87-92. https://doi.org/10.17509/ajsee.v1i2.33382
Sofyan, H., & Komariah, K. (2016). Pembelajaran problem based learning dalam implementasi kurikulum 2013 di SMK. Jurnal Pendidikan Vokasi, 6(3), 260-271. http://dx.doi.org/10.21831/jpv.v6i3.11275
Suhandi, A. M., & Robi'ah, F. (2022). Guru dan tantangan kurikulum baru: Analisis peran guru dalam kebijakan kurikulum baru. Jurnal Basicedu, 6(4), 5936–5945. https://doi.org/10.31004/basicedu.v6i4.3172.
Yew, E. H., & Goh, K. (2016). Problem-based learning: An overview of its process and impact on learning. Health professions education, 2(2), 75-79. https://doi.org/10.1016/j.hpe.2016.01.004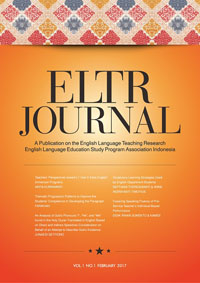 Downloads
How to Cite
Aulia, H. R., Laeli, A. F., & Ulwiyah, S. (2023). PROBLEM-BASED LEARNING AS A METHOD TO IMPROVE SENIOR HIGH SCHOOL STUDENT'S READING COMPREHENSION IN ENGLISH. ELTR Journal, 7(2), 77-85. https://doi.org/10.37147/eltr.v7i2.171
License
Copyright (c) 2023 Husnur Rosyidah Aulia, Anita Fatimatul Laeli, Siti Ulwiyah
This work is licensed under a Creative Commons Attribution-ShareAlike 4.0 International License.