AN ANALYSIS ON ENGLISH LOANWORDS IN AKB48 SONGS
Keywords:
loanwords, loanwords transformations
Abstract
There are vast amount of English loanwords in Japanese language than other languages. It is in contradistinction to the fact that Japanese language itself has a distant difference in terms of phonology, syntax, pragmatics and discourse from English. Certainly, the borrowing of English words in Japanese language involves some loanword transformations in order to fit its language system. In order to discover those, first, the researcher reviews the relevant literature of the loanword transformations in Japanese. Then, the researcher analyses the types of loanwords transformation from English loanwords production of 5 AKB48 songs. Document analysis was used in this research. The result shows that phonological transformation is the dominant type used in the songs.
Downloads
Download data is not yet available.
References
Ary, D., Jacobs, L. C., & Razavieh, A. (2002). Introduction to research in education (6th ed.). Belmonth: Wadsworth/ Thomson Learning.
Daulton, F. E. (2008). Japan's built-in lexicon of english-based loanwords. Clevedon: Multilingual Matters.
Ringbom, H. (1987) The role of the first language in foreign language learning. Clevedon & Philadelphia: Multilingual Matters.
Otake, M. P. (2008). Gairaigo: remodelling language to fit japanese.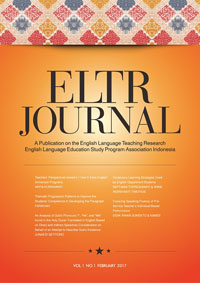 Downloads
How to Cite
Danardana, M. D. (2018). AN ANALYSIS ON ENGLISH LOANWORDS IN AKB48 SONGS. ELTR Journal, 2(1), 25-30. https://doi.org/10.37147/eltr.v2i1.93
License
Copyright (c) 2018 Michael Dony Danardana
This work is licensed under a Creative Commons Attribution-ShareAlike 4.0 International License.